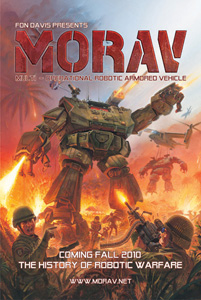 Buy your MORAV: The History of Robotic Warfare graphic novel at Amazon.com right now and get a great discount off cover price!
MORAV: The History of Robotic Warfare is a 160 page full color softcover graphic novel. This first installment in what will become a series of MORAV tales chronicles the earliest days of giant robotic warfare. We are introduced to Lt. Michael Okeda, a cocky fighter pilot who is thrust into a daunting new world of armed conflict, where he and his fellow soldiers must fight for their lives.



Shop the Fonco Zazzle Store Featuring M.O.R.A.V. T-shirts and other great items!
MORAV is an independant project that could use your help. All proceeds form the Fonco store will go to future development of the M.O.R.A.V. series.
Thank you for your support.

Here are 2 prototype statues. Keep in mind these are works in progress. We just got so excited we wanted to show the world!
Follow MORAV on Facebook!
MORAV Custom Search
Powered by