About MORAV Creator and Team
MORAV is created by and created for giant robot and science fiction fans.
MORAV has so far been funded by myself with invaluable help of close friends, coworkers and other renegades from the entertainment industry. It's very much a grass roots independent project of personal creative passion. I have waited a long time for someone to come out with a gritty realistic giant robot series. I always wanted to see this done in the most tangible possible. I finally decided if no one else is going to do than I will. After talking with some of my friends about MORAV I found that I was not the only one that thought this was a good concept.
So here we are.
A few years ago we started writing a television series. Since we began developing the world of MORAV, we have written more than enough to do just a television show. We have come up with a long enough chronology to make web episodes, comics, television shows and motion pictures without repeating stories.
Our focus has been on two things characters we can identify with and tangible environments. The story is about people in exotic locations around the world about immersed in robotic warfare. We want to put the audience in to a gritty realty that draws from the world around us while keeping the story geared toward adults with a topical multi layered foundations mirroring the complexity of world we all live in.
For giant robot fans we have also written the series to keep introducing new and exciting robot technologies until the entire world is dominated by these giant machines. The MORAVs are going to be true multi purposed machines that people fear at an almost primal level, like being prey to a shark. There is nowhere to hide from a MORAV. Almost nothing can stop them, except other MORAVs.
This fall we are going to release the first installment of the MORAV series as a graphic novel called MORAV: The History of Robotic Warfare. We're all very excited and hope you enjoy our first of many stories. Now that we have rapped up the first book, our plan is to move back to the live action side of things and produce a web series for the morav.net website.
We hope that you will be entertained and inspired by the MORAV series.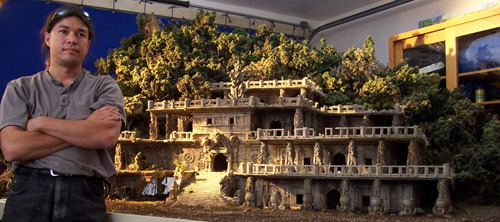 Fon Davis with the Dragon Temple miniature
Thank you for your interest and support.
Fon Davis - Creator and Executive Producer of MORAV
MORAV: Missions needs your help
Join the MORAV team!
Now let us first introduce some of the many incredible people helping make MORAV a reality.
Each category below lists individuals by the number of hours put on the project to date. Some have put in a day, and some months, but all of them are important to making MORAV a reality. If you'd like to be involved please contact me at:


MORAV: Missions - Live Action Web Series Crew
A FONCO Production
Writers - Fon Davis- Wendy Rolon - Huck Wirtz
Art Department - Ken Schultz - Alex Jaeger - David Yee - Marc Gabbana - Roel Robles
Director of Photography - Doug Hunt
Camera Assistant - Doug Swam
Wardrobe - Sabrina Wicner
Model and Set Fabricators - Todd D'Amario - Tyler Murray - Todd Fellows - Bryon Caldwell - Tiffany Caldwell - Kevin French - Lyudmila Kirillova - Paul Stewart -Greg Intermaggio - Anthony Shafer - Kumiko Enatsu - Lauren Vogt - Martin MacDonald - George Sakellariou - Pierre Maurer - John Goodson - Lauren Abrams - Paul Mais - Hendric Vogel - Brad Watkins - David Calkins - Darren Wong - Brittany Barnes
Research - Luke Longin
Robotics Engineers - Mitch Thompson - Grant Imahara - Scott McNamara - John Duncan - Pierre Maurer
Computer Modelers - Roger Ridley - Eric Lyman - Craig Dowsett - Kevin Douglas
Texture & Lighting - Brandon Lee
Rigger - Tim Coleman
Post FX - Paul Garber

Creator - Fon Davis
Scripts - M. Zachary Sherman
Pencils - Budi Setiawan
Inks - James Taylor
Color - J. Brown
Letters -Sean Konot
Front Cover - Marc Gabbana
Introduction - Doug Chiang
Chapter Covers - Emmanuel Shiu - Roel Robles - Brian Matyas - Lei Jin - Greg Knight - Paul Hamblin
Additional Art - Alex Jaeger - Bagas Wicaksono - David Yee -Ken Schultz - Marc Gabbana - Mitch Thompson - Roel Robles

Producers - Joey Rappa - David S. Dranitzke
Actors and Actresses - West Liang as Okeda - Kelvin Tsao as The King - Tony Williams as The Kings Visor - Tina Huang as The Princess - Lisa Kang as The Queen - Wendell Wilson as The General - Bradley Upton as Jarard North
Line Producer - Linda Wolkovitch
Writers - Fon Davis - Grant Imahara - M. Zachary Sherman - Jeannie Baroga
Director of Photography - Pat Sweeney
Sound and Music - George Sakellariou
Art Department - Ken Schultz - Neal Halter -Danny Wagner - Alex Jaeger - David Yee - Marc Gabbana - Roel Robles - Wayne Lo - Noah Sussman - Preston Donovan
Animator - Justin Kohn
Computer Visual Effects - Mitch Thompson - Michael Ward - JP Kelly - Carl Miller - Webster Colcord - David Janssen - Dave Kotterheinrei - Sebastian Noll
Computer Modelers - Bryan Dewe - Craig Dowsett - Eric Lyman - Giovanni Nakpil
Robotics Engineers - Grant Imahara - John Duncan - Scott McNamara - Pierre Maurer
Model Makers - Todd Fellows - Rick Barr - Peggy Hraster - Wendy Morton - Carol Bauman - John Eblan - Michael Steffe - Lauren Abrams - Lauren Hillman - Lauren Vogt - John Goodson - Jeff Brewer - Mitch Romanauski - Mark Walas
Very special thanks to our financial and material donors
Ben Nichols - Geordie Martinez - Richard Sim -Kevin Riepl - Greg Munson -Corrie Messinger - Lee Hadfield - Jonathan Watterson -Jeff Orr - Morten Jorgensen - Patricia Baird - Erik Correll - Archie Goodwin - Justin Myers - George Murphy - Dave Tsao - B'jamin da Bass - Edozie Edoga - David Hobbins - Linda Siegel - Megagreg - Jax Lee - Adam Kerpelman - Daniele McCartan - Nate Reid - Keith Mailloux - Lauren Abrams - Rodney Morgan - Meg Morris - Landis & Anna Fields - Ben Nichols - Chad Vernon - Reason Bradley - Sam Baker - Michelle Lyman - Loren Hart - Rose Duignan - Isaac Khelif - John Hegner - Carin-Anne Strohmaier - JustLike - Marc Gabbana - Jefferey Nallick - Joseph Suen - Doug Chiangt - Brett Phillips - Erin Collins - Gary Meyer - Thomas Kenney - U.S. Cavalry and American Indian Museum - Nora Beck Judd - Larry Tan - Dave Levesque - Otto Cate - Aaron Mcbride - Goose Manriquez - Lailani Simolin - Y.Shibata - Chris Rand - Brett Grossman - Marc Diaz - William Sauro - Kinman Chan - Warren O'Connell - RoboGames - Merrick Cheney - Lorne Peterson - Terry Molatore - Stacey MacDonald - Neal Halter - Grailpuffin - Neil Lim Sang - Wendy Vogt - The Good Nature Company - JoeandJo - Paul - Bruce Powell - Rob Coleman - Beth Redmond - Sean House - Michelle Fatale - Justin Yost - Paul Holt - Dereich - David McGraw - Shimon Starfury - AnnS - Larry Sweeny - Aaren Jensen - Tommy Kiser - John Heller - Ray Scully - Djlera - Don Reba - Kay Sindre Skogseth - Gary Graybill - Leslie Williams - Paul Hamblin - Octodrone Maxilla - Amir Epstein - Zeynep Baylan - Lisa - Anthony Shafer - LordFluffy - David Dranitzke - Ryan Zweng - Corie Zhang - Bobby K. Richardson - Kyle - Gary Marks - Peter McQuillan - Claytor Claytonius Frits - Cindy Snow - Letsparty - Reed Odeneal - Jean-Philippe Turcotte - Mike Terry - Rob Gonzo - Simon Olsson - T. Hunter Mccann - Ringo Davis - L.W. Brown - Adam Carola - Margaret Meyer - Mazzzzz - David Li - Chris Threlfo - Nino - Erik Dillinger - Monstark Studios - Jeffrey J. Ellen - Christopher Scott - Artem Mishin - Erik Laughlin - Rainia Knapp - Scott Dworkis - Hugh Reynolds - Vita Hsieh - Danny - Catherine Craig - Fernando Perez - Beth Bernhardt - Tim Bolton - Kathryn Capri - Matt Gallagher - Mike Corcoran - Matt Dougan - Mimi Abers - Guido Muzzarelli - Eliot Sirota - Nick von Tagen - Heath Kraynak - Jeffrey Kember - Justo Luis Rodriguez - Carolina Tello - Ross Shuman - The1WiTheGun - Sasha Korellis - Cire - Sjoerd Adding - Doug Olsson - George Banks - Paul Kahn - Chad Henderson - Wendy Rolon - Tony Sommers - Dorothy - Jason Stopczynski - Michelle Stock - Laurel Smith - Jenny Appleton - Jason Beckwith - Wendy - Warren Fu - Federico Bolla - Jim Kundig - Dave Binegar - Nimblesymbols - Mark Ellis - Randy Ottenberg - Trevor Tuttle - Annemieke Hutchins - Brad Upton - Rena - Susan Kelly - Barbara Garber - Margaret Andres - Leah Wolfe - Jon Arild Westlund - Billy Brooks - Ray Hom - Jennifer Hsyu - Clay Renfroe - Juan Luis Sanchez - Heidiarmour - Andrea - Pierre - Kevin Conde - Omar - Mike Corso - Tracy - Peter Spicer-Wensley - Merennulli - Kerry Wininger - Chris Kraft - Michael Brassell - Bo Henry - Neha Wickramasekaran - Henrik Lindhe - Nicholas Nakadate - Nicholas Apostoloff - Tyler Ham - Joshua Dushkewich - Odysseus Andrianos - Brittnell - Nancy Luckoff - Russell Darling - Josh Weed - Leila Chesloff - Dan Riha - Gary Warren - Keegan Trester - Claudio Jule -
Steven Zakulec - Alison Kellom - Bunny Dorsey - Eripmav Tobor - Zac Wollons - Ana Davis - Nick Bogle - Carmen Chow - Robert E Barnes - Elle Chan - Jenn Emberly - Kevin Baillie - Jim Gibbs - Mrfusion - Roger - Ryan Heuett - Susan Nelson - Punn Wiantrakoon - Ayse Arkali - Kurtis Wanner - Ryan Galloway - Stewart Weed - Gerald - Megan Corbet - Bryon Caldwell - William Lewinger - Brian Berringer - Hal Bryan - Cheryl Sansonetti - Steven Caron - Arseniy Arkhipov - Darnie Davila - Nancy Hansbery - Sabrina Wichner - Ryan Chan - Dan Kunz - Rebecca Heskes - Kevin Rafferty - Laura Bowers - Holley Mousley - Peter Abrahamson - Jason Arnold - Vincent Leddy - Nate Mecham - Robert Marinic - Jeff Balcerski -
Nathan - Damon Wolfe - UberEclectic - Charlie Bailey - Stephanie Turner - Chad Michael Weed - Joel Pennington - Aaron Morand - Mike Belzer - Pascal - Craig Mirkin – Betty Jo Ravitz - Sharon E Johnson - Jon Foreman - Zachary Cole - Ian Ameling - Julia Heller - Martin MacDonald -Hoot
All Material © FONCO 2007